Last month we brought you news of how we were hoping to provide support to Sonny Webster, an 18 year old Olympic Weightlifting hopeful. We are now delighted to announce that our support package is in place, and Sonny dropped in to see us to pick some brand new training gear.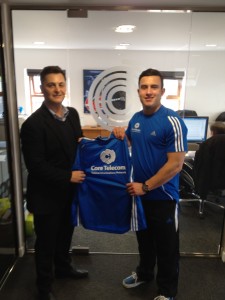 Sonny is the current Commonwealth Junior Champion in his category, and has broken 40 British Junior Records to date. So far he has represented Great Britain at 6 European Senior events, which led to him being invited to the Olympic test event in London earlier this year.
This week Sonny popped in to confirm everything, and to pick up some brand new training gear we had printed with Core Telecom branding. In our picture (left), he has been photographed with our Sales Director, Scott Walker.
He his now totally focused on claiming a place in the GB Weightlifting Team for London 2012. Sonny told us he is now down to the final 5 athletes who are competing for just 3 places.
Like all full time athletes, Sonny relies on external support as the small amount of funding he receives from British Weightlifting does not cover his costs.
As part of our support, Core Telecom is providing Sonny with the funding he needs to travel from his home in Bristol, to the excellent training facilities that are located in Leeds.
If you would like to follow the fortunes of Sonny, he regularly tweets his latest news and we will keep everyone up-to-date on his progress. Everyone at Core Telecom wishes Sonny all the best as he continues to achieve his Olympic Dream.