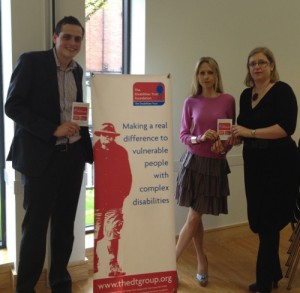 Core Telecom is delighted to have been given the opportunity to further expand their partnership with the Disabilities Trust by sponsoring their brain injury research launch event.
The new research has been undertaken together with St. George's Crypt in Leeds and is looking into the potential relationship between people who find themselves homeless and those who have suffered a brain injury.
The research launch took place on Wednesday 16th May at St George's Crypt, and Core Telecom was represented by George Cotter (Head of Marketing) and Scott Walker (Sales Director).
As part of the sponsorship Core Telecom is also delighted to have been able to donate a brand new free helpline for homeless people in the Leeds area. The helpline will act as a vital free method of contact and further contribute to the great work done by both the Disabilities Trust and St George's Crypt. The helpline number itself was officially launched by Scott Walker, in front of the Lord Mayor and health professionals from across Leeds.
Barrie Oldham, Cheif Executive of The Disabilities Trust commented: "The support of companies such as Core Telecom helps us to make a real difference to people's lives.  Core's donation of the helpline and their wider support for the Trust is warmly welcomed."
Other speakers on the day included Professor Michael Oddy, who presented the research findings, Deborah Fortescue and Sabah Ahmed both of whom work directly with St George's Crypt.
This latest work with the local community in Leeds, adds to the great work Core Telecom already does supporting good causes across the UK. The company has built long standing relationships with national charities, including The James Whale Fund for Kidney Cancer and Dreams & Wishes.
Upon donation of the phone line, Core Telecom's Cheif Executive Mahmood Mazhar stated: "At Core Telecom we have a proud history of working with a wide range charities, and it is a great pleasure to be able to provide a brand new helpline for the Disabilities Trust. This is part of our on-going support of the foundation, who's work is of great importance to me. I hope that by working together, Core Telecom and the Disabilities Trust can make a real difference to people's lives."