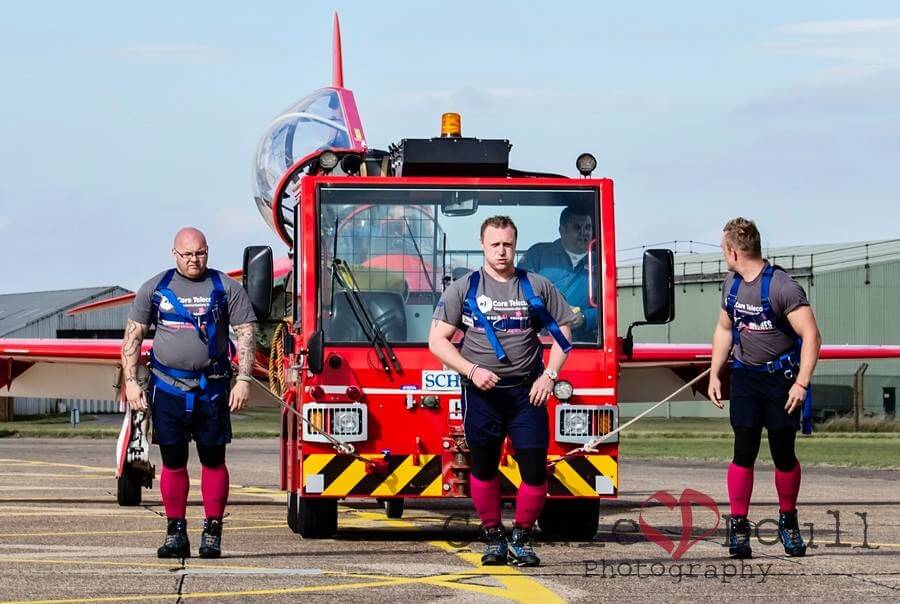 This weekend saw Darren White's last – and most spectacular – fundraising event take place, as he, Chris Annetts and Lee Seville pulled a Red Arrows jet for 130 metres along the runway at RAF Scampton.
Darren has been training incredibly hard for this event, helped along by his 8-man strong team. Over the last couple of months they have taken part in a number of events all in aid of raising money for our chosen charity, Dreams & Wishes.
"The tow went amazingly well. We're still collecting sponsorship money in, but so far we've raised over £1000 for this event alone," says Darren.
Core Telecom have been supporting Darren's efforts by supplying specialised training kits for 9-man team so that they could minimise the risk of injury and focus on the job at hand. The team have already completed a number of events, including at 10k road race, a 'Spin-Cycling' event and an indoor climbing event which saw them climb the vertical height of Mount Everest.
In total, the team have raised over £3000 for the charity since their efforts began.
Mahmood Mazhar, CEO of Core Telecom, said: '"What Darren and his team have done is truly amazing. Dreams and Wishes do some incredible work, helping seriously ill children fulfil their dreams and the money that has been raised will help them to continue their work.
"Darren's dedication to raising awareness and money for the charity is inspirational and we are proud to be able to have been part of his journey!"